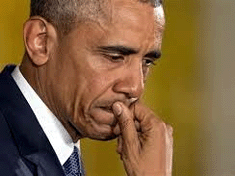 ISLAMABAD: The killing of kidnapped American aid worker Dr Warren Weinstein is more tragic in the sense that the blame for his death has been accepted by the same person – President Obama – to whom Weinstein had been making fervent video appeals for the last four years to save his life.
In his last video message released by al-Qaeda on December 25, 2013 Warren Weinstein had pleaded with President Obama to negotiate with the captors for his release, saying that he felt "abandoned and forgotten" by his country. "My life is in your hands, Mr. President," Weinstein had stated in another video message released in September 2012. "If you accept their demands, I live. If you don't accept their demands, then I die", the American hostage had stated. However, Weinstein would have hardly imagined that he would be killed in a CIA-sponsored drone attack one day under the orders of the same person to whom he is making appeals to save his life. The American media has already described Dr Warren Weinstein as "the forgotten man of the American war against al-Qaeda".
Shortly after his staff issued a statement announcing Weinstein's death, a visibly upset Obama came to the White House briefing room to make a rare personal apology: "As President and commander-in-chief, I take full responsibility for all counter terrorism operations, including the one that inadvertently took the lives of Warren Weinstein" President Obama said in a press conference at the White House on April 22, 2015 while announcing that CIA drone strikes in Pakistan in January 2015 had killed two hostages being held by al-Qaeda – Warren Weinstein, an American, and Giovanni Porto, an Italian – along with two American-born al-Qaeda members. President Obama added, "I profoundly regret what happened." Lifting the lid on a previously classified finding, a solemn Obama expressed his "deepest apologies" to the families of 73-year-old Warren Weinstein and aid worker Giovanni Lo Porto, 39.
Obama gave few details of the operation that killed them, saying: "It is a cruel and bitter truth that in the fog of war generally and our fight against terrorists specifically, mistakes – sometimes deadly mistakes – can occur." Obama then defended the legality of the drone strike that killed the hostages, adding that there had been no evidence that the two men were present at what the US had determined was an al-Qaeda compound. The fortuitous death of an innocent American national in a US drone attack underscores the perils of a long-distance war which is waged through video screens and sometimes faulty intelligence. Intending to wipe out a compound linked to al-Qaeda terrorists, the CIA had authorised the January drone attack [with the approval of Obama] without knowing that the hostages were being held there, despite hundreds of hours of surveillance. Even afterwards, the CIA did not immediately realise that it had killed an American national it had long sought to rescue, with the wrenching news becoming clear only over time.
Weinstein was an Urdu-speaking aid worker on contract with the USAID, a man past retirement age, who was kidnapped by 11 armed men [belonging to the Lashkar-e-Jhangvi] from his Model Town home in Lahore, on August 13, 2011, days before he was supposed to return to the US after completing his tenure. The Pakistani agencies had concluded that the key reason behind the kidnapping Weinstein was his being a 'Jewish American', just like Daniel Pearl, a US journalist who was abducted from Karachi in January 2002 and then slaughtered a few weeks later by Khalid Sheikh Mohammad. Convicted of abducting Weinstein, Hafiz Imran of Wazirabad was handed down three death sentences by an anti-terrorism court in Lahore on January 7, 2015. Police had also nominated the fugitive al-Qaeda chief Dr Ayman Al Zawahiri as an accused in the case.
Warren Weinstein was actually kidnapped three months after US Navy SEALs raided a compound in Abbottabad, and killed the fugitive al-Qaeda chief Osama bin Laden. Yet, despite efforts that the Obama Administration has described as extensive, US Navy SEALs never located or attempted to rescue Weinstein, who was finally killed by none other than a US drone on January 15, 2015 when an American drone targeted an al-Qaeda camp in Shawal area near the Afghan border, which was run by Ustad Ahmad Farooq, the second-in-command of al-Qaeda in South Asia (AQIS). Ustad Farooq's real name was Raja Mohammad Salman who belonged to Islamabad, studied Shariah at the International Islamic University (IIU), Islamabad, and remained in-charge of al-Qaeda in Pakistan for seven years. He was appointed by the organisation's deputy chief for Asia Maulana Asim Umar, the ameer of AQIS, when al-Qaeda's South Asia chapter was launched in September 2014.
Coming back to the poor Weinstein, the truth remains that the White House never negotiated his release, as had been the case with an American soldier. In May 2014, after long talks with the Taliban, US Special Forces flew into Waziristan to take the custody of Bowe Bergdahl, an American soldier who had wandered off his base, on the Afghan border with Pakistan, and had been captured by fighters with the Taliban-affiliated Haqqani network. In exchange for Bergdahl's release, the Obama Administration had released four Taliban prisoners held at Guantánamo. However, Weinstein, who was a civilian, did not figure into the deal and was left behind, as the White House kept repeating its blunt refusal to negotiate with terrorists, although it did negotiate with them for the release of a soldier – whose life was apparently considered more precious than that of a civilian.
On December 1, 2011, 15 months after his abduction, Dr Ayman Zawahiri had claimed responsibility for his kidnapping in a video message, saying that the detained American would be freed if the US stopped drone strikes in Afghanistan, Pakistan, Yemen and Somalia and freed prisoners being held at Guantanamo Bay. Little did Zawahiri know that Weinstein would eventually be killed in a drone attack? But there was no response from the Obama administration. On May 6, 2012, al-Qaeda released the first ever video of Warren Weinstein wherein he was shown pleading with the US President Obama to submit to al-Qaeda's demands to ensure his release before he is killed. The videotape, which was produced by al-Qaeda's propaganda wing and is titled "A Message from the Prisoner Warren Weinstein to His President, Weinstein directly addresses Obama, and begs for the president to accept al-Qaeda's terms for his release.
"I am not in good health. I have a heart condition. I suffer from acute asthma…Needless to say I've been suffering deep anxiety every part of every day," Weinstein had said. "Mr President, for the majority of my adult life, for over 30 years I have served my country. Now when I need my government it seems that I have been totally abandoned and forgotten." I would like to talk to President Obama and ask him – beg him – that he accept and respond to the demands of the mujahideen, for my life is in your hands, Mr. President," Warren said, according to a transcript of his statement. "If you accept their demands, I live; if you don't accept their demands, then I die. It's important that you accept the demands, act quickly and don't delay. There will be no benefit in delaying as it will just make things more difficult for me."
Weinstein had then appealed to President Obama as a father, adding that the president is not paying any attention or care about his problem or his needs. However, the White House had outrightly refused to negotiate for Weinstein's release. "The President is aware of it. I do not believe he's seen it, or I do not know that he's seen it. We remain greatly concerned for Weinstein's safety and his well-being," White House Press Secretary Jay Carney told newsmen in Washington on May 7, 2012. "Our hearts go out to him and his family. We condemn his kidnapping in the strongest terms and call for his immediate release. The US government will continue making every effort to see Warren Weinstein released safety to his family, but we cannot and will not negotiate with al-Qaeda," Jay Carney added.
Not only the White House, the US State Department too refused to make concessions to terrorists. "As you know, we don't make concessions to terrorists. We obviously remain very concerned about the safety and well being of Weinstein. We want to call – or we have called, and continue to call for his immediate release and continue to cooperate closely with Pakistani authorities on the current investigation", State Department spokesman Mark Toner told reporters on May 7, 2012. In his last video statement, released in September 2012, Warren Weinstein had appealed to Israel's Prime Minister Benjamin Netanyahu "as one Jew to another" to help secure his release. However, even the Israeli president could not prevail upon his all-powerful American counterpart to play his role to save the life of an American Jew.
The misfortune represents a major blow to the Central Intelligence Agency (CIA) and its covert drone programme in Pakistan, which President Obama embraced and expanded after coming to office in 2009. "Al-Qaeda extremists are ultimately to blame for the tragic death of Warren Weinstein, the hostage's wife has said in statement. But Elaine Weinstein also added that she and her family were disappointed with the American and Pakistani governments' efforts to secure her husband's release from his al-Qaeda captors. She said that the assistance her family received from the US government was inconsistent and disappointing. "We hope that my husband's death and the others who have faced similar tragedies in recent months will finally prompt the US government to take its responsibilities seriously and establish a coordinated and consistent approach to supporting hostages and their families," she added.
---
http://www.thenews.com.pk/Todays-News-2-314730-Obama-rightly-takes-blame-for-Weinstein-death