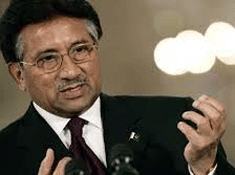 ISLAMABAD: (The News) Mark Siegel is not the only American journalist to have made public Ms Benazir Bhutto Shaheed's security concerns following a threatening phone call she had received from General (retd) Pervez Musharraf. A Pulitzer Prize winning American journalist Ron Suskind had also quoted Musharraf in his 2008 book as directly warning Ms Bhutto: "You should understand something; your security is based on the state of our relationship".
Ron Suskind had disclosed in his 2008 book titled "The Way of the World: A Story of Truth and Hope in an Age of Extremism" that the American intelligence agencies had taped Benazir Bhutto's phone calls, prior to her arrival in Pakistan [in October 2007], in a bid to play under-the-table, cut-throat games more effectively. About those bugging Bhutto, Suskind wrote on Page 293 of his book: -"What they'll overlook is the context and her tone in the many calls they eavesdrop on – overlook the fact that she was scared and preparing for the possibility of her imminent death". Ron Suskind's book is full of disclosures, with its fair portion about Musharraf-Benazir conversation, bugged by the US agencies.
The book further disclosed details of Ms Bhutto's meeting with Senator John Kerry requesting for her security and his reply that "the United States is generally hesitant to ensure the protection of anyone who is not a designated leader". In a subsequent interview on August 15, 2008, Suskind had quoted Bhutto as having told him: "I've got two enemies who have been in an unholy alliance for many years now – dictatorial power and messianic radicalism, and I have no protection. Why? Because Dick Cheney (the then vice president) won't make the phone call! Why? Explain it to me, the idea that they assured me that Cheney would make the call to Musharraf simply to say, 'You're the dictator, make sure she is protected. She has to make it to election-day. If she doesn't, we're going to hold you responsible.'
Narrating Musharraf's threatening message to Benazir Bhutto that "your safety is based on the state of our relationship", Ron Suskind said: "It was all but like a Mafia threat. And this is something that the US, frankly, deep down understands, too. They let this process unfold. And ultimately, folks around Ms Bhutto now are saying that she was abandoned by America". Almost eight years after her tragic murder in Rawalpindi [on December 27, 2007], Mark Siegel, a much-awaited witness in her murder case, has now testified through video link from Washington that Musharraf had warned Benazir that "her safety depends on the state of their (Musharraf's and Bhutto's) relationship". Siegel said Musharraf also warned Benazir Bhutto that her security would only be guaranteed if she returned to Pakistan after the elections.
Mark Siegel further testified that Asif Ali Zardari was also present in the office of a US congressman when Ms Bhutto had received a "threatening call" from General Pervez Musharraf. Testifying before a Rawalpindi Anti-Terrorism Court (ATC), Siegel verified the statement which the Federal Investigation Agency had already included in the Joint Investigation Team (JIT) report. Siegel claimed that on September 25, 2007, Ms Bhutto had received a telephone call [in his presence] in the office of Congressman Tom Lantos in Washington DC, which she later described as "a very bad call" from Musharraf. "She was shivering, trembling and terrified after taking the call," Mark Siegel claimed in his testimony.
According to Mark Siegel, Ms Bhutto had later sent him an email on October 26, 2007, in which she expressed her sense of insecurity. She also said that if something happened to her, she would hold Musharraf responsible, apart from the individuals mentioned in her letter to the General [written on October 16, 2007. In the letter, Benazir had named Brigadier (retd) Ejaz Shah, Lt-Gen (retd) Hameed Gul and former Punjab chief minister Chaudhry Pervaiz Elahi.
On his part, when asked at a media briefing in Islamabad on January 1, 2008, if he had Bhutto's blood on his hands, Musharraf had said the question was 'below my dignity' but he wanted to give a public answer in any case. "I am not a feudal and I am not a tribal. I have been brought up in a very educated and civilized family with beliefs and values and which believes in character. My family is not the one which believes in killing people, assassinating, intriguing. That is all that I want to say", he said. A day later, on January 3, 2008, Musharraf admitted for the first time that Ms Bhutto may have been shot by a gunman, but added that Benazir alone bore responsibility for her death. "She should not have stood up in her car as she left a rally. For standing up outside the car, I think it was she to blame alone and nobody else. Responsibility is hers". He had then confirmed what Siegel told the Rawalpindi ATC on October 1, 2015 by stating: "I had asked her not to come before the general elections, to which she had agreed. But then she decided to come all of a sudden. She did not stick to her agreements with me. Now that changed a little. It upset me a little".
Musharraf's logic apart (Responsibility is hers), the fact remains that Ms Benazir Bhutto must have had many powerful enemies in the Pakistani establishment as well as the militant organisations, which first wanted to stop her homecoming and her subsequent political comeback, and wished her to be eliminated physically. By her own estimate, no fewer than four different jehadi organisations backed by certain powerful elements in the establishment wanted her dead within hours of her homecoming. And Bhutto was convinced of Musharraf's involvement.
In fact, the United Nations Inquiry Commission's report on Ms Bhutto's murder too had given broad hints about Musharraf's involvement in the murder in these words: "Ms Bhutto had emerged as a potential threat for General Musharraf, as she increasingly challenged his plans to maintain his hold on power, first by returning to Pakistan to campaign, then by focusing on the potential for election rigging, and finally by campaigning directly against the military dictatorship during the weeks of martial law. Some believe that he became increasingly angry at Ms Bhutto for criticizing him and his regime so strongly, after having engaged in negotiations with him."
Along the same lines, General Musharraf's allies, the PML-Q were also threatened by Ms Bhutto, as they had the most to lose if the PPP were to win the elections and displace them from their majority position in Parliament. Over the course of her campaign in Pakistan before her assassination, Ms Bhutto developed the view that General Musharraf was the main threat to her safety. As she saw it, his government was not providing the security she was warranted and deserved due to the threats against her and her status as a former prime minister.
To tell the truth, on November 13, 2007, hardly a few weeks before her assassination, Ms Bhutto herself told me in an interview in Lahore that the Karachi suicide attack [on October 18, 2007] could not have been possible without Musharraf's blessings. In her off-the-record conversation with me at the residence of Senator Latif Khosa a few hours before being put under house arrest by the Musharraf regime [in a bid to prevent her from leading a long March on Islamabad against the Musharraf regime], Ms Bhutto said that she knew well even before returning home that an attempt would be made on her life. 'And let me tell you that the Karachi attack could not have been possible without Musharraf's blessing.'
Ms Benazir Bhutto said that while realising her mistake after the Karachi suicide attack, she had written another letter to someone very important, naming her would-be assassins. Asked if she has named Musharraf in that letter and to whom, the letter was addressed, Benazir Bhutto smiled and said: 'Mind one thing, all those elements in the Pakistani establishment who stand to lose power and influence in the post-election set up are after me, including the General. I can't give you more details at this stage. However, you can name Musharraf as my assassin if I am killed.'
It was now my turn to ask questions. 'Do you doubt General Musharraf's intentions?' She said: 'Off the record, I would say I do not doubt his intentions. I am sure of his involvement and my assumption is based on reliable information.' I was taken aback. I asked her, 'If this is true, why don't you make it public?' She said, 'I can't do that at this stage because of the reconciliatory milieu. The General did not want me to return to Pakistan before the elections, and he is furious that I have come home before the polls as it could disturb his game plan.'
Ms Bhutto then told me that a couple of weeks before her arrival, Musharraf had sent her a message that the law and order situation in Pakistan was awry and the religious fanatics were outraged because of her anti-jehadi statements in the aftermath of the Lal Masjid episode. She was, therefore, advised not to come to Pakistan before the general elections. But Benazir had conveyed to him that whatever the circumstances, she would definitely return to lead her party in the polls. In return, she was given another warning that several extremists groups and individuals are planning to kill her. According to Benazir Bhutto, she had responded after receiving this message that if the agencies had prior information of the murder plans, they were, of course, in a position to arrest the planners as well. Her rebuttal had fetched her no reply from Pervez Musharraf or his administration.
At this stage, I interrupted her and said, 'God forbid, but as far as we know, General Musharraf had given the Americans a guarantee for your protection in Pakistan.' She replied, 'No, the general hasn't given any such assurance to anyone. And he can be more vindictive than you can imagine. Even otherwise, a popular politician should never trust a military dictator.' Asked about the reason for Musharraf's animosity against her, Ms Bhutto said: "I have almost made him shed his military uniform, which was like a second skin to him." (Musharraf had to quit as the Chief of Army Staff on November 28, 2007, almost two weeks after my Lahore meeting with Bhutto.)
"Now that I have staged a comeback, the general is between a rock and a hard place. He is under tremendous pressure to quit the presidency, shed his military uniform, and go home.' And that's why he is so much furious.
"I had more questions, 'If you are so convinced that the Karachi attack would not have been possible without Musharraf's consent, have you made any move to protect yourself? Will you ever make this public?' She replied: 'When it's time, you will know more about it. For now, as I told you earlier, you can name Musharraf as my assassin in case I am murdered.'
"But I asked another question: 'I hope no such thing ever happens, but even if it does, and I do name Musharraf as your assassin, what difference is it going to make? In my personal opinion, you should go public about these facts so that if he does have any such plans he'll get defensive and might not proceed with them.'
"Ms Bhutto responded, 'I believe he would get on the offensive if I made any such move, and would create even more problems for the party leadership, especially with regard to my participation in the forthcoming general elections. But this doesn't mean I won't do anything and let him get away with whatever he wants. I have already taken into confidence some important people in the right quarters.
"I have kept them informed of all these developments as well as my fears, so that my opponents understand that even if they are able to kill me, they could always be investigated, just as the former Lebanese prime minister Rafik Hariri's assassination was investigated by the United Nations.'
It was long after her assassination that I understood what she had meant when she had hinted at being in touch with the 'right quarters'. She had sent an email to Mark Siegel a few days after the Karachi bombings targeting her welcome procession. Siegel had forwarded Ms Bhutto's email to Wolf Blitzer of the CNN which he had made public after Bhutto's martyrdom.