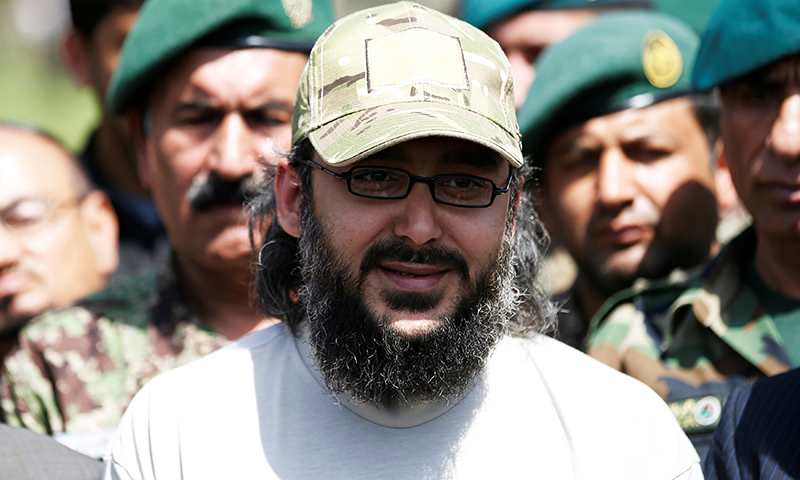 ISLAMABAD: (Asia Times): The miraculous rescue of Ali Haider Gilani, the abducted son of a former Pakistani Prime Minister Syed Yousaf Raza Gialni, was made possible when US Navy SEALS carried out a covert raid in the Gayan district of the Paktika province of Afghanistan on May 10, 2016 to target a key al-Qaeda linked Pakistani Taliban leader from South Waziristan, Khalid Mehsud alias Saeed Khan Sajna and his deputy, Zia Mehsud. While Sajna was lucky to have survived the raid, Zia and another hostage taker were shot dead by the SEALS.
The US State Department had tagged Sajna as a global terrorist on Oct. 21, 2014 and slapped sanctions on him under Executive Order (E.O.) 13224, which targets terrorists and those providing support to terrorists. Sajna had been involved in fighting against the US-led allied Forces in Afghanistan which was the prime reason for his being tagged by US State Department. Giving reasons for tagging him a key global terrorist, the US State Department notification said that Sajna, who has had experience fighting in Afghanistan, was not only involved in the May 2011 attack on the Mehran Naval base in Karachi, but is also accused of masterminding the April 2012 Bannu jail break in which 400 al-Qaeda and Taliban-linked terrorists were freed.
The fidayeen attackers who targeted the Mehran Naval base in Karachi had destroyed two precious US-supplied P-3C Orion maritime surveillance planes, worth billions of rupees. While strongly criticizing Sajna's tagging by the US State Department, his spokesman Azam Tariq had said in an audio message: "The American decision is recognition of our jihad against Jews and Christians. We thank Allah Almighty that infidels are offering bounty for our leaders."
As the American drones had spotted the suspicious hideout of the Sajna group on the Afghan side of the Pakistani border in the day time on May 10, 2016, the Navy SEALS were dispatched in a stealth Chinook helicopter the same night to possibly capture them alive. While Sajna was away at the time of the US raid, Zia Mehsud and the other hostage taker decided to abandon their hideout at dusk along with their captive to go atop a high rocky mountain, in a preemptive move to seek refuge.
The party of three started climbing the steep cliff-like mountain which took them almost two hours. As their feet touched the mountain top, which was an expanse of a flat surface, a stealth helicopter suddenly appeared in the dark sky. The rest is history as both the Taliban militants were eventually shot by the raiding party after they offered resistance and tried to use their weapons.
To jog memories a bit, it might be recalled that Ali Haider Gilani, son of former Prime Minister Yousaf Raza Gilani, was abducted from the historic Multan district of Punjab province on May 9, 2013 during the general election campaign. The abductors killed Ali's accompanying bodyguard and driver before forcefully pushing him into their vehicle. Ali was contesting a seat in the Punjab provincial assembly, while three other members of the family, including his two elder brothers, were running for the national assembly seats.
During subsequent investigations by Pakistani intelligence agencies, it transpired that Ali Gilani was seized in a joint operation conducted by al-Qaeda-linked Punjabi Taliban and Lashkar-e-Jhangvi (LeJ) militants who took their hostage to Faisalabad district of Punjab the same day by road. They kept him in Faisalabad for the next three months and then decided to shift him to Datta Khel area of the Shawal Valley in North Waziristan. He was made to wear a burqa and stuffed into a car along with two other burqa-clad men.
The purpose of the camouflage was to keep him shrouded from around 48 military check posts that would not dare demand a woman lift her veil for identification. The men accompanying Ali Haider Gilani had pistols to combat any misadventure. The heavily forested ravines of the Shawal Valley are home to Taliban hideouts and the valley itself is a key smuggling route into neighbouring Afghanistan. The area is a stronghold of Khan Saeed Sajna. Once in the Shawal area, Ali Gilani found himself in the custody of al-Qaeda in the Indian Sub-continent (AQIS) led by Maulana Asim Umar, a former commander of the Punjabi Taliban.
The launching of AQIS had been announced by none other than the al-Qaeda ameer, Dr Ayman Al Zawahiri, on Sept. 3, 2014, in a 55-minute video posted online. In the middle of August 2013, a hitherto unknown militant outfit — "Mujahideen Al-Mansuri Brigade" — claimed that Ali Haider Gilani was in its captivity. The group leader Abu-Yazeed contacted the mother and wife of Ali Haider Gilani separately on phone and told them that he was in their custody, adding that he wouldn't be released unless his demands are met. The major demand was the release of 22 militants belonging to al-Qaeda, Tehrik-e-Taliban Pakistan, Lashkar-e-Jhangvi and the Punjabi Taliban.
However, it was quite hard for the Pakistani authorities to fulfil the demand given the fact that the Pakistan Army had already launched a massive military operation against the TTP in North Waziristan in June 2014. Once in Shawal area of South Waziristan, Ali Gilani came to know that there were several other foreign hostages too including an American, a Chinese, a German and an Italian. Their chief captor or jailer was the deputy ameer of AQIS, Ustad Ahmad Farooq, who actually belonged to Islamabad and had completed his masters' degree in Islamic Education from the International Islamic University (IIU), Islamabad. His real name was Raja Mohammad Salman and he used to be a close aide of the Brigade 313 ameer, Commander Ilyas Kashmiri.
The Chinese and German abductees were subsequently freed after their governments paid heavy ransom but the US national, Warren Weinstein and Ali Haider Gilani remained unlucky because their governments had refused to release prisoners to ensure their freedom. Ali Gilani spent his next 18 months of captivity in the highly uninhabited Shawal area on the Pakistani side of the Pak-Afghan border along with Warren Weinstein. Both captives experienced the bitter-sweet twist of fate in different ways. Warren, a US Aid worker and director in Pakistan for J.E. Austin Associates who was kidnapped from the Model Town locality of Lahore in August 2011, had reportedly converted to Islam and had changed his name from Warren to Ishaq.
The two were provided books to read and Gilani and Weinstein found a common interest in the novel series Vampire Diaries by L. J. Smith. They both shared the books and discussed them. However, in the end, he remained unlucky to have been killed accidentally by none other than the American CIA in a Jan. 14, 2015 US drone strike in the Shawal, as announced by President Barack Obama at a White House press conference on April 23, 2015. The drone strike also killed Ustad Ahmed Farooq and an Italian hostage, Giovanni Lo Porto.
Ali Haider Gilani had a narrow escape that day as he was present in the same locality at the time of the US drone attack, but was sleeping a few meters away in a separate hut. The deadly drone strike was carried out two years after Ali Gilani's abduction. Soon after the US drone attack, Ali was shifted to another locality and handed over to Commander Saeed Khan alias Sajna, who gave his custody to his No. 2, Zia Mehsud. Interestingly, Ali Gilani was befriended by his new captors who treated him well due to his sociable behaviour. On several occasions, Ali had also played cricket with Saeed Khan Sajna who used to visit his hostage and held lengthy discussions with him. As the Pakistan Army focused the Shawal Valley in January 2016 as a part of the Operation Zarb-e-Azab against the Taliban, Saeed Khan Sajna and his fellow militants decided to shift their operational base to the Gayan district of Paktika province of Afghanistan which was quite close to the Pak-Afghan border.
Ali Gilani was also shifted there and he was still in the custody of Zia Mehsud and his guard. Hardly a week before the raiding party of the US NAVY SEALS had recovered Ali in a commando operation, Zia Mehsud had made his wife and two kids travel from Karachi in Pakistan to his new hideout in the Gayan district of Paktika province to join him. Keeping the surroundings devoid of manpower was part of his strategy. Knowing well that the drones were monitoring the area, Zia Mehsud tried to give an impression to those manning the drones that a family was living in the house [where Ali was being kept].
Two hours before the deadly operation that would kill Zia Mehsud and his guard, Gilani was told by his captor to pack up his necessary stuff and start walking with them. Zia had decided to leave his family behind. It was night time and Gilani had to follow his captors in the dark on the altitude of a rocky mountain for about two kilometers. While Gilani himself had no luggage, he was told to carry a knapsack bearing a hefty amount of 500000 euros. The militants had no idea that the drone that had been following them for days had been tracking them and their movement. As soon as the climbers reached the top of the mountain at an open space, a stealth helicopter suddenly appeared in the sky, wheezing above their heads. Both the militants were spotted by green laser beams, forcing them to frantically run in opposite directions. The beams continued to follow them both in their respective directions. As they didn't respond to the warnings by the Navy SEALS to stop and surrender, both were shot at by the sharp shooters – Zia Mehsud in his face and the TTP guy in the neck.
As the operation had begun, Gilani had also started to run in a third direction and had fallen down in the dark. Since he wasn't on the 'capture or kill' agenda of the SEALS, they tried to find out who he was by asking him questions in Pushto from the dark. Upon seeing two pairs of eyes looking at him through night vision goggles, Gilani told them to speak in English since he was not a terrorist but a hostage. The SEALS told him to remove his shirt, put his hands behind his back and kneel on the ground. While Gilani obeyed, he was suddenly tied at the hands from behind and was asked to identify himself.
That is the beginning of how the capture operation for Saeed Khan Sajna and Zia Mehsud flipped on its side and became a rescue operation for Ali Haider Gilani. Gilani told his name and his father's adding he was the former Prime Minister of Pakistan. One of the NAVY SEALS asked the other if Gilani could be trusted but the answer was No. While one of the SEALS commandos held a tied up Ali Gilani at gun point, the other who was connected to the Bagram air base in Afghanistan, started to confirm his identity. After five minutes, the identity was confirmed and the SEALS turned to Gilani, to congratulate him, untie him, before taking him on board to fly him to the Bagram air base from where he was finally shifted to Pakistan.
Although having been rescued, the Americans were not quite done with their job. A senior US military intelligence officer, who had identified himself as George Fletcher, took twelve hours to debrief Ali Haider Gilani, confirming the identity of those two killed in the operation [by showing their dead bodies] and several other TTP and al-Qaeda leaders who are still wanted. The American intelligence officials were keen to know more and more about Saeed Khan Sajna's location as he is considered to be among those who are in touch with the fugitive al-Qaeda ameer, Dr. Ayman Al Zawahiri.
Amir Mir is a senior Pakistani journalist known for his research work on Islamic militancy and terrorism in Pakistan. He has authored several books including "Talibanization of Pakistan: From 9/11 to 26/11," "The Bhutto Murder Trail: From Waziristan to GHQ," "The True Face of Jehadis" and The Fluttering Flag of Jehad."
(Copyright 2016 Asia Times Holdings Limited, a duly registered Hong Kong company. All rights reserved.)