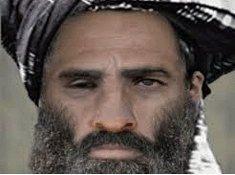 The mystery surrounding Mulla Mohammad Omar's death is deepening further with every passing day, with more and more reports suggesting that he did not die by natural causes as being claimed by the Afghan Taliban headed by Mulla Akhtar Mansoor whose "selection" as new Taliban ameer has already been challenged openly by Omar's son, Mulla Mohammad Yaqoob, and his uncle, Mulla Abdul Mannan.
While the Afghan government, the Taliban, as well as the family circles of Mulla Omar have already confirmed his demise, the circumstances of his death remain uncertain in view of the conflicting reports suggesting that the reclusive ameer was either shot dead or poisoned to death. While the BBC claimed that Mulla Omar had died a couple of years ago in Pakistan, a statement issued by the Taliban spokesman Zabihullah Mujahdi said that he had breathed his last in Afghanistan due to sickness as his health condition deteriorated in the last two weeks [between July 15 and July 29, 2015]. Conspicuously, hardly a day earlier, the same Taliban spokesman told Voice of America that Mulla Omar was alive and healthy and the rumours of his death were aimed at drawing out their leader. On the other hand, Afghan President Ashraf Ghani had claimed that Omar had died two years ago in April 2013.
While it is yet to establish if Mulla Omar had died two weeks ago or two months ago, the circumstances surrounding his reported death are obviously intriguing, to say the least. The statement released by the Taliban spokesman Zabihullah Mujahid about the death of his ameer said Omar suffered from a long-term illness, but it failed to mention when or where he died or was laid to rest. While the Afghan government has claimed that Omar died in Pakistan and was buried in Zabul (Afghanistan), Zabihullah did not mention his burial place. His statement said: "Mulla Omar never left Afghanistan for one day during the 14 years since 2001". This is clearly not true, as it is widely known that he had crossed over to Pakistan after the Americans invaded Afghanistan and used to live in Quetta and then Karachi for years.
According to Rahi Mulla Yousafzai, a veteran Pakistani journalist who is considered an expert on the Afghan affairs, Mulla Mohammad Omar was reportedly shot dead. He told Saleem Safi in Geo TV's programme "Jirga" that two bullet holes were reportedly found on Omar's body [on the temple and in the chest] when his grave was reopened on the insistence of his son, Mulla Mohammad Yaqoob, who wanted to confirm that his father has actually died. But on the other hand, the Afghanistan Islamic Movement Fidai Mahaz, a splinter group of the Taliban group in Afghanistan, has claimed on August 1 that Mulla Omar was poisoned to death. The Fidai Mahaz (the Suicide Front) had quit the mainstream Afghan Taliban in 2013 while rebelling against Mulla Akhtar Mansoor's willingness to engage in peace talks with the Afghan government. The anti-talks extremist group is headed by Haji Najibullah, a close associate of former Taliban commander Mulla Dadullah Akhund, who was killed by the NATO troops in 2007. The same group had confirmed Mulla Omar's death for the first time has also claimed that Mulla Omar's death on July 22, 2015 in a statement that eventually forced the Taliban to make public the news almost a week later.
According to the August 1 statement issued by Fidai Mahaz spokesman Qari Hamza, Mulla Omar was eliminated following the opening of the Taliban's liaison office in Qatar which had sparked serious argument between him and Mulla Akhtar Mansoor. The statement added that Akhtar Mansoor replaced the medicine of Mulla Omar with a poisonous medicine which was imported from Dubai in a bid to gradually take his life. According to Fidai Mahaz spokesman, Mulla Omar died three days after using the poisonous medicine. The same spokesman had earlier claimed in a statement on July 22 that Mulla Omar was "martyred" two years ago in July 2013 during the holy month of Ramzan by his "close associates" Mulla Akhtar Mansoor and Gul Agha. He said the burial of Omar took place in the Zabul province of Afghanistan. The proof will come, the group promised.
Sources close to Mulla Mansour, however, rejected this allegation. They said Mulla Mansour had very cordial relations with Mulla Omar and such allegations were being leveled by those who are jealous of Mulla Mansour's position in Taliban.
The allegation echoed across Twitter, Facebook and other social media sites for one week after which the Afghan intelligence Agency – National Directorate of Security – came up with a statement on July 29, stating that Mulla Omar was definitely dead. The Taliban leader died in suspicious circumstances in a hospital in Karachi around April 2013, said the NDS spokesman Haseeb Sediqi. Another Afghan intelligence official told The New York Times that Mulla Omar had been "suffering from a disease," and added: "We do not know the whereabouts of his graveyard or whether he received a ceremony." But the latest Fidai Mahaz claim comes amid deep rifts within Taliban ranks regarding the selection of the new leader Mulla Akhtar Mansoor as the successor. Although, Taliban spokesman Zabihullah Mujahid had claimed that Mulla Akhtar Mansoor was chosen the new ameer of the Taliban by the Shura unanimously being Mulla Omar's deputy, the fact remains that there are deep differences within the senior commanders over the selection of Akhtar Mansoor.
The Taliban ranks already seem divided as Mulla Mohammad Yaqoob, the eldest son of the deceased Taliban ameer, has rejected the choice of successor. Mulla Yaqoob and three other senior Taliban leaders walked out of the meeting which was called to elect a new leader, after their demand for a wider voting was turned down. "I am against the decision to select Mulla Akhtar Mansoor as leader," he told The Associated Press. Akhtar Mansoor, a former aviation minister in the 1996-2001 government of Omar, is considered to be a moderate and a supporter of the peace talks, unlike Mulla Yaqoob who claims to be following the policy of his father. Yaqoob claims that over a dozen key members of the Taliban Shura were absent from the secret meeting that had selected Akhtar Mansoor as the new ameer. He added that the meeting of the Afghan Taliban`s supreme council was dominated by Akhtar Mansoor's supporters. The anti-Mansoor camp wants Yaqoob to be made the new Taliban leader and successor to his father. Mulla Omar's brother, Abdul Mannan is already member of the Taliban Leadership Council, who too didn't agree to Mansoor`s selection as the new leader in the council's meeting. But despite all these differences, neither Mulla Yaqoob nor Abdul Mannan have endorsed the Fidai Mahaz allegation so far that Mulla Omar was poisoned to death by Akhtar Mansoor. However, if that happens at some stage, it would become impossible for Akhtar Mansoor to continue as Mulla Omar's successor.
---
http://www.thenews.com.pk/Todays-News-6-332307-Mystery-continues-to-surround-Mulla-Omars-death