The Pakistanization of al-Qaeda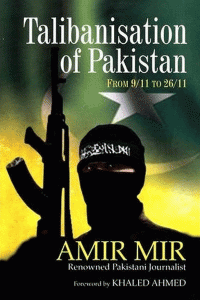 TALIBANIZATION OF PAKISTAN; FROM 9/11 TO 26/11 AND BEYOND
AUTHORED BY AMIR MIR, PUBLISHED BY PERNTAGON PRESS, INDIA
ISBN-13: 978-8182744332
Pakistani establishment's sincerity in dealing with terrorists operating from its soil has always been a subject of speculation. The doubts remain amid ongoing peace talks between the Pakistan government and the Tehrik-e-Taliban Pakistan. The outcome is difficult to predict. But few are certain whether the taming of the TTP as a result of the peaxe talks will bring an end to terrorist activities in Pakistan.
In his book, Pakistani journalist Amir Mir has shown how "Talibanisation" began with President Ziaul Haq and continued to flourish even under the man who joined America's war on "global terror" – General Pervez Musharraf. Describing the terrorist outfits – particularly those involved in Kashmir and elsewhere in India – as the "civilian face of the Pakistani Army", Amir Mir details the nexus between these terror organisations, the Taliban/Al Qaeda network and the Pakistani security and intelligence establishment. Starting from the preparation and planning of the 26/11 Mumbai attack to the current fight against the Pakistani Army in Waziristan, Mir takes us through the long journey that many key terrorist leaders like Hafiz Mohammad Saeed, Commander Zakiur Rehman Lakhvi and Mullah Fazlullah alias 'Mullah Radio' made in the world of jehad. He also acknowledges how the current situation in Pakistan is a direct result of Islamabad using terrorism as a foreign policy tool to deal with India and in its quest for geostrategic depth in the region.
Of the 28 chapters in the book, almost the entire first half relates to 26/11, including those dedicated to Hafiz Mohammad Saeed, Zakiur Rehman Lakhvi, Maulana Masood Azhar and Dawood Ibrahim, and the operations of Pakistani jihadi groups in India. The remaining ones are about Benazir Bhutto`s murder, Baitullah Mesud, the Lal Masjid operation, Pakistan's sectarian war and the major jihadi groups, ending with those on ISI-Al Qaeda-Taliban as the axis of evil, Pervez Musharraf and the Swat operation. The chapters on 26/11 are extremely interesting and informative, including references to the 70-page dossier handed over by India to Pakistan, as well as mention of the Pakistan Navy commando unit which had trained the 10 young Lashkar-e-Tayyaba terrorists and other aspects. This book is a definite "must read" for a wide range of professionals dealing with defence and security, particularly those in India, Afghanistan, the United States, Britain, other countries affected by terror and, of course, Pakistan. Amir Mir deserves more than just an award and should be provided with extremely good security measures.