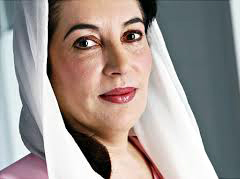 ISLAMABAD: (The News) Eight years after the October 18, 2007 Karsaz suicide bombings targeting Ms Benazir Bhutto's homecoming procession in Karachi, which killed 160-plus people, the investigation agencies have simply failed to trace out the four alleged plotters who had been arrested by the Inter Services Intelligence (ISI) after conducting its own probe into the Karsaz attack. These arrests had also been shared by the ISI high-ups with the United Nations Inquiry Commission which had investigated the Bhutto murder.
Submitted to the Pakistan government in May 2010, the 65-page United Nations inquiry commission report has clearly mentioned in the very first paragraph of page 16 that a former high-level agencies official had told the Commission that the agencies conducted its own investigation [into the Karsaz attack] and captured and detained by the end of October 2007 four suspects from a militant cell. But the Commission report had added, "the whereabouts of these four could not be confirmed by the UN Commission as of March 2010". However, more than five years after the UN Commission submitted its report to the Pakistani authorities and mentioned these arrests, nothing much seems to have been done by the concerned agencies to trace out the four suspects who had been arrested by the agencies for their alleged involvement in the deadly Karsaz attack which is astonishing, to say the least.
Similarly, the Sindh police as well as a special investigative team constituted by the PPP government in 2012 to investigate the twin suicide blasts have also failed to unmask the mastermind of the bombings which were primarily meant to assassinate Ms Bhutto. The three persons named by none other than Benazir Bhutto in the Karsaz attacks as the prime suspects, two of whom had been Musharraf's close aides at that time, had been given a clean chit by the investigation agencies long ago for inexplicable reasons. But despite having been able to lodge a new FIR of Karsaz attacks after assuming power, the investigating agencies under the PPP government in Sindh simply failed to trace out the culprits, maintaining that the Musharraf regime had systematically destroyed all evidence from the crime scene, just like the December 27, 2007 attack in Rawalpindi that killed Ms Benazir Bhutto.
After the Karsaz attack [which occurred ten weeks before her assassination], Ms Benazir Bhutto Shaheed wrote a letter to the then President General Pervez Musharraf, naming three persons whom she suspected of masterminding the attacks. Careful not to name Musharraf himself [although she suspected him too], Bhutto chose to name Musharraf's right hand Chaudhry Pervaiz Elahi, the then director general of Intelligence Bureau Brig (R) Ejaz Hussain Shah and the former ISI chief Lt Gen (R) Hameed Gul. However, the Musharraf regime deemed it fit to blame the attack on al-Qaeda linked elements. On October 19, 2007, a day after the attacks, Ms Bhutto had disclosed at a press conference in Karachi that she had informed Musharraf in a confidential letter [written on October 16, 2007] that three senior government officials were planning to assassinate her upon her return home.
"I had further made it clear to Musharraf that I won't blame either Taliban or al-Qaeda if I am attacked, but I will name my enemies in the current Pakistani establishment," she told newsmen after surviving the Karsaz bombing. However, it was a year later that the three persons she had blamed were eventually named in the second FIR of Karsaz attacks, which was lodged on October 18, 2008 under the Zardari-led PPP government. While announcing the lodging of the second FIR, Sindh Chief Minister Qaim Ali Shah had stated on October 20, 2008 that Benazir Bhutto's own attempts to file a second FIR of the Karsaz tragedy were foiled by the Musharraf-led PML-Q government in Sindh and that the three persons nominated in the FIR, who were named by Bhutto herself, would be arrested and interrogated shortly.
Almost eight years after her tragic murder in Rawalpindi [on December 27, 2007], Mark Siegel, a much-awaited witness in her murder case, has now testified through video link from Washington that Musharraf had warned Benazir that "her safety depends on the state of their (Musharraf's and Bhutto's) relationship". Siegel said that Musharraf also warned Ms Benazir Bhutto that her security would only be guaranteed if she returned to Pakistan after the elections. Siegel further testified that Asif Zardari was also present in the office of a US congressman when Ms Bhutto had received a threatening call from General Pervez Musharraf. Testifying before an Anti-Terrorism Court of Rawalpindi, Siegel in fact verified the statement, which the Federal Investigation Agency had already included in the Joint Investigation Team (JIT) report. Siegel claimed that on September 25, 2007, Bhutto had received a phone call in his presence in the office of Congressman Tom Lantos in Washington DC, which she later described as "a very bad call" from Musharraf. "She was shivering, trembling and terrified after taking the call," Siegel has claimed in his testimony.
According to Mark Siegel, Ms Bhutto had later sent him an email on October 26, 2007, in which she expressed her sense of insecurity. She also said that if something happened to her, she would hold Musharraf responsible, apart from the individuals mentioned in her letter to the General [written on October 16, 2007]. It must be mentioned here that in a one-on-one meeting with this scribe on November 13, 2007 at Latif Khosa's Lahore residence, Benazir Bhutto had claimed that the Karsaz bombings could not have been possible without Musharraf's blessing. "Do you know who was involved in the suicide attacks on my welcome procession?", Bhutto had asked me. I replied, "Those whom you have mentioned in your letter to Musharraf." She had another query for me, "Do you know for whom these people work?" I replied, "For Musharraf." She probed further, "So what does this mean?" It was now my turn to ask a question. "Do you doubt General Musharraf's intentions"? She said: "Off the record, I would say I do not doubt his intentions. I am sure of his involvement in the Karsaz attacks and my assumption is based on reliable information."
Addressing his first press conference after the murder, Bhutto's widower, Asif Zardari, made public her October 20, 2007 email to Wolf Blitzer of the CNN, which mentioned the name of her would-be assassins. 'That e-mail should be treated as Benazir Bhutto's dying declaration. She talks about her murderers from her grave and it is up to the world to listen to the echoes', he said. Bhutto wrote to Wolf Blitzer in her e-mail: 'If it is God's will, nothing will happen to me. But if anything happened to me, I would hold Pervez Musharraf responsible'. Blitzer had received the e-mail on October 26 from Mark Siegel, a friend and long-time Washington spokesman for Benazir. That was eight days after she narrowly escaped an attempt on her life in Karachi. Bhutto wrote to Wolf: 'I have been made to feel insecure by Musharraf's minions'.
Benazir Bhutto had pointed out in her mail that she had not received the requested improvements to her security and was being prevented from using private vehicles equipped with tinted windows. Bhutto had added that she had not been provided with signal jammers to prevent remote controlled bombs or with police mobile outriders to cover her vehicle on all sides. According to Siegel, "Ms Bhutto had asked permission to bring in trained security personnel from abroad. In fact, she and her husband again and again tried to get visas for such protection but Pakistan government denied them again and again. A US-based security agency Black Water and a London-based firm Armor Group, which guards UK diplomats in the Middle East, were not allowed to protect Benazir Bhutto. She urged Musharraf to improve her security after the Karachi suicide attacks, besides requesting American and British diplomats to pressurize Musharraf in providing adequate security to her. But Musharraf never listened".
On his part, General (R) Musharraf has rejected Mark Siegel's testimony as a pack of lies, adding: "Mark Siegel was paid by Benazir to do lobbying for her; and probably he is now lobbying for her husband Asif Ali Zardari". On the other hand, Asif Zardari had stated on June 21, 2015 while addressing a ceremony held in Naudero to mark the 62nd birth anniversary of his wife: "All killers of Mohtarma Benazir Bhutto, except Pervez Musharraf, had died. And no matter how much pressure you people exert on us, we are not going to withdraw the murder FIR against Musharraf. BB herself got registered the FIR while declaring that Musharraf would be responsible if anything happened to her".
---
http://www.thenews.com.pk/Todays-News-2-346742-Four-Benazir-attack-plotters-remain-missing-after-arrest