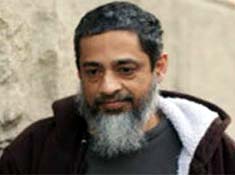 ISLAMABAD: Pakistan has requested the United States to deport a Pakistani-American Riaz Qadir Khan who has pleaded guilty to financing the 2009 fidayeen attack on the Lawrence Road headquarters of the Inter Services Intelligence (ISI) in Lahore, once the al-Qaeda and Tehrik-e-Taliban Pakistan-linked terrorist completes his prison sentence in the US.
Riaz Khan, 51, was handed down 87-month prison sentence by a US court on February 14, 2015 under a deal after he had admitted to providing advice and financial assistance to those who carried out the May 27, 2009 attack targeting the provincial headquarters of the ISI in Lahore, thus killing 30 people besides injuring 300-plus. The United States Attorney's Office in Portland, Oregon, announced in a statement on February 14, 2015 that Riaz Khan would be sentenced to 87 months of imprisonment. Sources in Pakistani security establishment say there are bright chances of the US acceding to Pakistan's request for Riaz Khan's deportation [once he serves his prison sentence] so that he could be taken to task for the deaths of 30 people who lost their lives in the ISI office attack, including some senior intelligence officials.
FBI agents had arrested Riaz Qadir Khan from his home in Portland in March 2013 for assisting one of the three fidayeen attackers, a Maldivian national, who took part in the ISI Lahore office bombing. The Maldivian national, Ali Jalil alias Musab Sayyid, was killed in the bombing which was meant to avenge the military operation against Mullah Fazlullah-led militants in Swat valley. Riaz Khan had confessed to having sent money to Ali Jalil of the Maldives Islands, and two others who had rammed a bomb-laden truck into the ISI's Lahore office. Shortly after the lethal attack, al-Qaeda had released Ali Jalil's video statement, claiming responsibility for the ISI office bombing. The video also showed him preparing for the attack at a hideout in the Federally Administered Tribal Areas (Fata) of Pakistan.
The attack was a well-planned hybrid operation, consisting of a fidayeen assault by two gunmen to be followed by detonation of an explosive-laden vehicle by the third suicide bomber. At least 100 kilograms of C4 explosives was used to conduct the deadly attack on the ISI headquarters in Lahore, which also razed to the ground the adjoining Rescue 15 building. The ISI building was partially damaged because the vehicle driver failed to breach the boundary wall of the security pylons, compelling him to detonate the vehicle carrying explosives outside the edifice. The responsibility for the attack was claimed by Hakimullah Mehsud, who at that time was the second-in-command of the TTP chief, Baitullah Mehsud, saying it was revenge for the army operation against militants in Swat.
Two of the three attackers died in the assault while the ring leader Dr Muaz alias Omar Kundi, had escaped from the crime scene. A former commander of the Lashkar-e-Toiba (LeT) who had joined the Lashkar-e-Jhangvi (LeJ), before finally falling in the lap of the Tehrik-e-Taliban, Muaz was trained in North Waziristan as a fidayeen attacker along with a Punjabi Taliban, Sajid Butt and Ali Jalil alias Musab Sayyid, a Maldivian citizen who had traveled to Pakistan from Maldives with the aim of joining 'Islamic' militants. While the Maldivian national and the Punjabi Taliban were killed in the attack, Dr Muaz was shot dead in an encounter with the law enforcement agencies on February 20, 2010 in Faisalabad while he was on his way to attack the ISI head office there.
In a subsequent posthumous video released by al-Qaeda on March 3, 2010, in which the Maldivian terrorist was shown getting terrorist training in Waziristan along with Muaz and Sajid, Ali Jalil took responsibility for the bombing of the ISI head office in Lahore. While announcing the arrest of Riaz Khan three years after the bombing, Greg Fowler, the special agent in charge of the FBI in Oregon, said in a March 4, 2013 statement: "Those who provide material support to terrorists are just as responsible for deaths and destruction that follow as those who commit the violent acts". A naturalised US citizen who lived in Portland and worked at a water treatment facility with Portland city's Environmental Services Bureau, Riaz Qadir Khan is a graduate of the NED University of Engineering and Technology, Karachi.
As per the FBI indictment, Riaz Khan and Ali Jalil had been engaged in a long email correspondence that began in 2005 and culminated in 2009 when Jalil finally reached Pakistan with Riaz's help. Jalil and two other Maldivian citizens were earlier captured in Sri Lanka in 2006 when they were attempting to travel to Pakistan for underground military training. Jalil was convicted of preaching without a license and was sentenced to two years' house arrest on December 26, 2006. As he violated his house arrest, he was sentenced to four months of banishment on February 8, 2008. As Jalil was determined to try again, he wrote to his friend Riaz Khan in October 2008 that he wants to accelerate his departure and would head for Khan's home country.
While reminding his friend of his promises in the past to embrace martyrdom in the way of Allah, Jalil told Riaz Khan in an email that he might not be able to wait for him to join the noble mission. In that email, Jalil reminded Khan of his past devotion to seek martyrdom for Allah. "Where are the words you said with tears in your eyes that 'we shall strive until Allah's word is superior or until we perish", the email stated. Jalil then sought Riaz Khan's promise to make sure that his family would be taken care of. Khan, according to the indictment, emailed him detailed instructions, advising him how to purchase his tickets, and suggesting him, not to tell his family that he didn't have a job awaiting him in Pakistan. Riaz told Jalil not to worry about his family. "I understand your worries about your family and I will try to support them as much as possible," he had told him.
Afterwards, Jalil had contacted Riaz Khan from Sri Lanka on October 28, 2008 who subsequently arranged through an intermediary in Los Angeles to have $2,450 available for Jalil to pick up from a "trusted brother" in Pakistan. As he landed in Lahore from Colombo, he was received by some Lashkar-e-Jhangvi operatives who eventually took him to North Waziristan where he was trained in terrorism, as depicted in his posthumous video. On May 27, 2009 Jalil and two others mounted the Lahore attack and died in the operation. Shortly after that, Riaz had wired $750 to Jalil's wife.
Almost ten months after his death, the media arm of al-Qaeda – As-Sahab – had released Ali Jalil's video message wherein he claimed the ISI office attack. In the statement he recorded beforehand in the Waziristan region under the pseudo name of Musab Sayyid, Ali Jalil said while addressing the camera with assault weapons by his side: "This war between us and you will never end. It is really useless for you to fight back. I want my blood to be the red carpet that would take the Islamic nation to its glory".
---
http://www.thenews.com.pk/Todays-News-2-301979-Pakistan-wants-US-to-deport-ISI-office-attacker